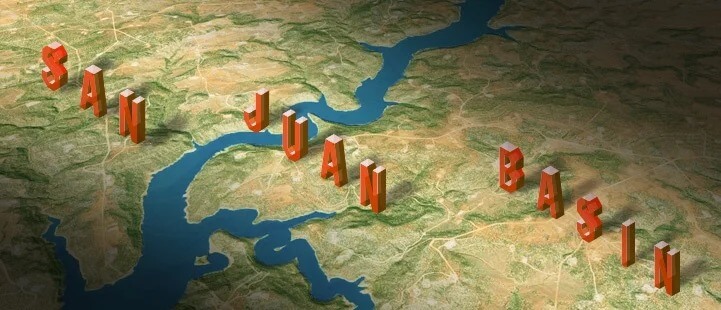 The San Juan Basin offers many investment opportunities, as it contains the largest coal-bed methane field in the world and ranks second in total gas reserves. This spotlight provides geological facts, current activity and things to know beforehand.
Background
The first oil well in the San Juan Basin spud in 1911, and since then over 40,000 wells have been drilled. Drilling activity was steady from the 1990s until 2008. In 2007, there were over 40 active rigs. Then attention turned to the prolific Marcellus, where gas could be extracted less expensively. Today, there are four rigs running—BP has two, and WPX and Red Willow Production Company each have one.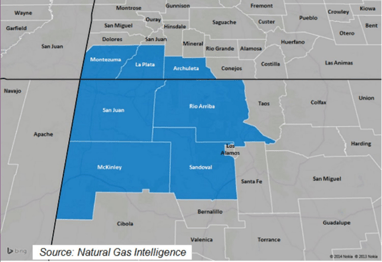 Mancos Shale and Gallup Sands
Improved drilling technology and renewed attention to the Mancos Shale and Gallup Sands are sparking increased interest in this area. The Mancos Shale lies under the Mesaverde and runs north to south, primarily covering areas of northwestern New Mexico into southwestern Colorado. While it is primarily a gas play, it becomes more oil prone as it moves south of the San Juan Basin. Its thickness is estimated to be almost 4,000 feet in places, with at least five continuous assessment units (per the USGS).
Regional highlights
The following highlights are worth bearing in mind from an investment perspective:
A recent USGS survey estimates the Mancos in the Piceance Basin alone holds more than 66 trillion cubic feet of recoverable natural gas. By comparison, the Marcellus is estimated to hold 84 trillion cubic feet of gas.
The potential could be compared to the Permian Basin with many stacked plays; and with the use of multi-stage fracking, the development of these plays may trend towards economical.
The majors currently testing wells in this area are BP and WPX.
ConocoPhillips recently announced divestiture of its assets to Hilcorp.
In addition, Private Equity activity has increased in the San Juan basin in recent months:
ArcLight Capital Partners LLC backed Logos Resources has been picking up federal acreage this year to add to its estimated 143,000 net acre position, and has recently permitted two wells.
Trilantic Capital Management LP and Waveland Energy Partners LLC have invested in DJR Energy LLC, a company with over 165,000 net acres in the San Juan Basin.
NGP backed Juniper Resources has also been active in the San Juan Basin, recently taking control over several wells from Coleman Oil & Gas.
Encap backed Southland has a sizeable position in the San Juan Basin of approximately 200,000 net acres.
What newcomers should know
Despite increased activity in the San Juan Basin, the time to obtain drilling permit approval can be lengthy. One must also take into consideration that the basin is made up of large areas of federal and Indian lands. Furthermore, environmental groups are also very active there, so public relations is a must and has to be factored into the cost of developing the acreage. Finally, fee title in this area is often complex, with vintage vertical wells holding fee acreage for decades and convoluted heirship needing to be sorted out. Cinco's land management experts can help you navigate these nuanced situations.
For questions regarding mineral title matters or acquisitions in this area, please contact me or Bob Davis, our Director of Land for the Western US.